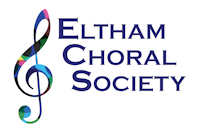 Eltham Choral Society is an amateur, mixed choir of around 90 voices that rehearses and performs in the South East of London.
Affiliated to
Our Next Concert......
Saturday 7th July 2018
Summer Concert
Concert at 7.30pm

Karl Jenkins' The Armed Man
Eltham Choral Society
Holy Trinity Church,
Southend Crescent, Eltham, SE9 2SD
---
Diary Note....
Come and sing Rutter's Requiem
Saturday 6 October 2018
at Eltham Park Methodist Church, Westmount Road, Eltham, SE9 1XX
NEWS
Are you interested in joining ECS?
Inspired to take up Choral Singing?
We welcome new members and have singers across a wide age spectrum, so you'll feel at home.
Eltham Choral has sung at weddings and funerals and may be available to do in the future. Please contact Rod Tutt


if you want more details.
Summer Term
The First rehearsal for the summer term is Thursday, 12th April, 2018. Full details in the members' diary
Interested in hearing our news?
You can sign up for our newsletter and receive 4 or 5 mailings a year telling you about our upcoming concerts and other events which might be of interest
Eltham Choral Society on BBC Radio 3
The BBC featured Eltham Choral Society in Meet My Choir on Sunday 15th March's BBC Radio 3 The Choir programme.
The clip has been uploaded to the Radio 3 website, and will stay there indefinitely at http://www.bbc.co.uk/programmes/p02lr1xx